Zoning for Energy Savings and Comfort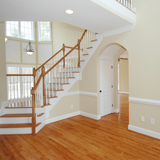 When your family is sleeping, you are probably most concerned about the temperature of the bedrooms. Would you like to save energy by focusing heating or cooling on them?
When making dinner in the kitchen on a hot summer evening, would you like to be able to keep even the kitchen cool?
If you have central heating and air, the answer is Zoning.
Through Zoning, we divide your house into zones with similar needs for heating and cooling. Each zone is provided with its own thermostat for controlling temperature. When that zone is in use, heating or cooling can be focused on it. You help the environment and save on energy bills by reducing the heating and cooling for other parts of the house.
You may divide your home into the upstairs and downstairs, the living area and sleeping area, or create different zones for the kitchen, dining room, family room, etc. You may create two to eight zones.
With Zoning, you save energy while maintaining optimum comfort in whichever part of the house your family is using.
Frequently Asked Questions
How are heating and cooling zones created? Warm air and cool air are delivered throughout your home in air ducts. Using a damper, like the ones in chimneys, the air system opens and shuts ducting so that the warm or cool air is focused in the parts of the home where it's needed. Simply by setting the thermostat, the dampers will open and close as needed.
If I already have a central heating and air system, can you create Zoning in my home? Yes! Give us a call and we can give you a free estimate.