Scheduled Maintenance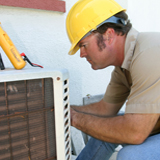 Preventative maintenance can save energy and money while enhancing comfort. For example, replacing filters in your air system can speed up the flow of air for greater comfort and at the same time save on energy bills.
Home improvement experts recommend that your heating and air equipment be checked and maintained twice a year. Your air system needs preventative maintenance in the spring before you start using your air conditioning and in the fall before you start using your furnace. Much better to catch a problem before it becomes an expensive breakdown during a heat-wave in summer or a freeze in winter.
A final reason for preventative maintenance might be the most important. In the fall, we adjust burners in your furnace, which reduces carbon monoxide and other combustion gas emissions to ensure your family's safety.
Twice-a-year preventative maintenance:
Protects your family,
Enhances comfort,
Reduces the chances of an expensive breakdown at just the wrong moment, and
Can save energy and money.
Spring
Inspect Compressor
Inspect Belts
Inspect Wiring
Inspect Coils
Check Running Pressure
Check Refrigerant Fill
Inspect Fan Motor
Inspect Blower Motor
Lubricate Motors
Clean/ Replace Standard Filter
Test Capacitors
Test Thermostat
Fall
Inspect Burner and Pilot
Inspect Burner Adjustment
Inspect Heat Exchanger
Inspect Limit Switch
Inspect Fan Operation
Inspect Pilot Thermocouple
Test Electronic Ignition
Inspect Draft Diverter
Check Temperature Increase
Check Heat Anticipator
Clean/ Replace Standard Filter
Inspect/ Adjust Belts
Lubricate Motors
Check for Carbon Monoxide
Contact us today to schedule your next preventative maintenance.